Domestic Intermodal Spot Rates - Jan 9 2018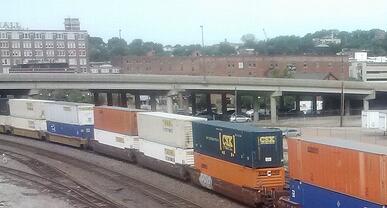 Comments on the Weekly Intermodal Rate Charts:
Domestic intermodal spot rates are:
Up 0.7% from last week.
Down 2.0% from 90 days ago.
Up 14.9% from prior year.
Domestic intermodal rates inch up this week, although off their record highs that were hit just a few short weeks ago.
According to the DAT Trendlines report 53' dry van rates continue to set new record highs. As reported by DAT, truckload spot rates are up 22% over prior year. This is in contrast to 53' domestic intermodal rates reported to be up 15% over prior year. A comparison between the two 53' capacity alternatives would indicate there is the opportunity for shippers to consider modal conversion.
100% of the 120 lanes InTek tracks increasing from prior week, with an average increase of $28.
Capacity appears to be relatively balancing, although challenges do exist and tend to be found in the cold temperature cities more so than others.
Diesel Fuel Comments:
The EIA reported average diesel fuel price of $2.996 per gallon this week, which is a $0.023 increase from the prior week.
The price per gallon is up $0.399 or 15.4% higher from the same period last year.
Oil pushed higher again this week. WTI and Brent trading today at $64.20 and $69.75, respectively.
The most recent projection by the EIA for diesel and oil prices were published on November 7. In the report, diesel is projected to average $2.83 in calendar year 2018.
The full spreadsheet of the historical weekly price moves of diesel full can be found at https://www.eia.gov/petroleum/gasdiesel/.
Graphs listed below include:
53' Domestic

Intermodal

Price Index & Diesel Fuel Prices
Price Changes in 53' Domestic

Intermodal

Pricing & Diesel - 1/1/2013 Baseline
Rolling 52 Year-over-Year Comparison - 53' Domestic

Intermodal

and Diesel Fuel Prices

Rolling 52 Year-over-Year % Change - 53' Domestic

Intermodal

and Diesel Fuel Prices
Rolling Quarter-over-Quarter Comparison - 53' Domestic

Intermodal

and Diesel Fuel Prices
For more on 53' domestic intermodal, truckload and managed transportation services, please sign-up for our weekly blogs and visit the InTek Freight and Logistics website.
Follow InTek Freight & Logistics:
Proud Members of:
Other Recognition and Certifications: